.
Named notable woman in artificial intelligence and music
By Gissel Velarde, Octubre 15, 2020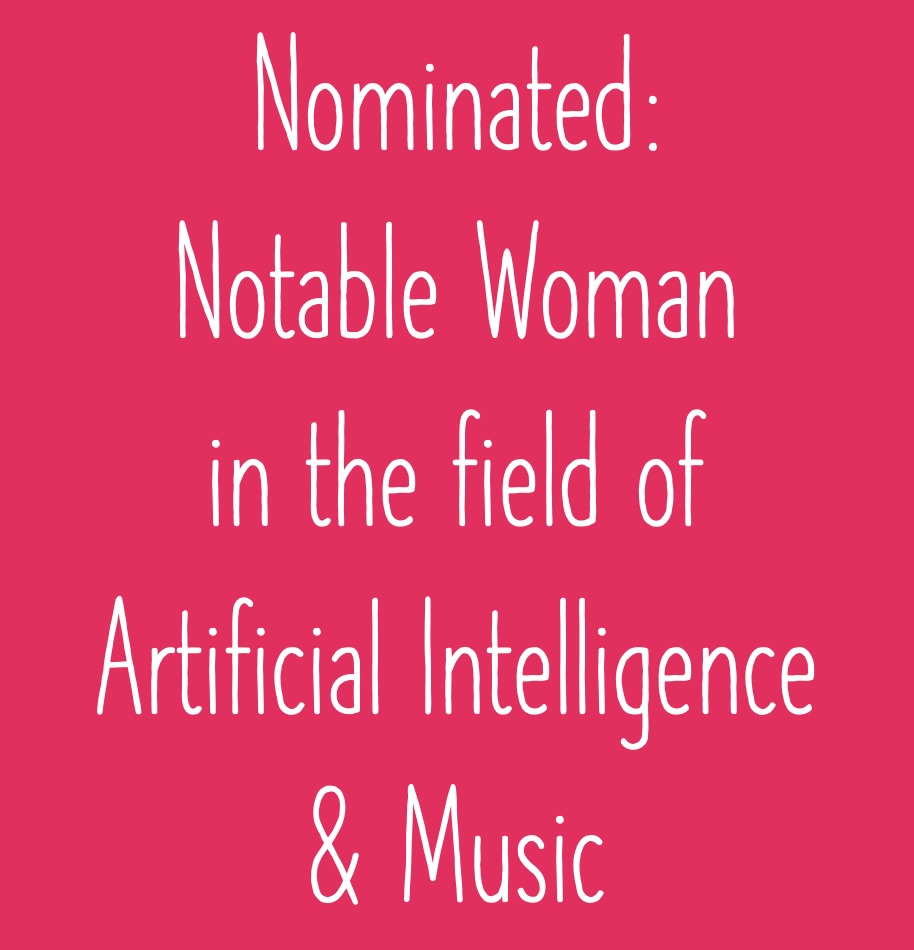 In October 2020, I received with emotion and gratitude the recognition of "Notable Woman" in the field of artificial intelligence and music. The first time I participated in the International Society for Music Information Retrieval (ISMIR) conference was in Utrecht 2010. At that time I was working at Miebach GmbH. a German industrial company in Dortmund that had nothing to do with music. In my job, I analyzed the parameters of welding machines the size of a two-story apartment. To attend the conference I asked for a few days of vacation and took the train to Ultrecht. My musical training at the National Conservatory of Music of La Paz and my engineering training allowed me to understand this passionate scientific community.
My first experience was exceptional. I still remember the feeling I got from the stage lights, the packed auditorium and the researchers presenting their work. Ten years have passed, but I remember some of the presentations from that conference as if it were yesterday. I had a poster in which I presented some ideas on identifying patterns in melodies via wavelets. I then met researchers with whom, to this day, I have a deep friendship as conferencers. Our coded music and artificial intelligence talks are so entertaining that we can talk about it from the beginning of the conferences until we move to a restaurant for dinner and then have a few drinks and continue talking about music and artificial intelligence.
This year, the conference was held for the first time in a digital format. The organizers of Women in Music Information Retrieval (WiMIR) announced that they have appointed me as "Notable Woman". More than thirty people participated in the virtual meeting. Some had their cameras turned off, so I couldn't see all the participants. I introduced myself and proposed two topics for discussion. I imagined that among that crowd, besides veteran researchers, there could be young people like me years ago, in their first experience at the ISMIR conference. I don't know if for those first timers at ISMIR, the virtual version would be as vibrant as it was for me when I attended Utrecht. It will surely be a different experience.
I remember the streets of Utrecht and the beautiful reception we participants had. We listened to a carillon concert and for the closing event, we visited the "Speelklok" museum. I remember a huge room with all kinds of musical organs presented by a vivid young lady. Then the farewell dinner. I imagined how tiring it must have been for Frans Wiering, being the general chair of that fabulous organization. But I also imagined all the uncertainty that the representatives of the 2020 conference Audrey Laplante and Ichiro Fujinaga would have felt and the hustle and bustle before holding a virtual conference for the first time. And perhaps the arrangements they would have to make during the conference running in various time zones.
At the conference in Utrecht, I was about three months pregnant and although I was sometimes sleepy during the conference, I was getting all the strength I had to continue with the marathon program we had ahead of us every day. Indeed I felt like a fish in water.
Since the conference in Utrecht, a decade has passed. I attended the ISMIR conference in Utrecht thanks to the advice of Tillman Weyde, who became my second PhD thesis advisor. In Utrecht, I met David Meredith who became my first tutor. David Meredith and Tillman Weyde, would be my "Angel investors" as they bet on me as a PhD student. I can only acknowledge how lucky I was to be a disciple of both of them. Both with their own character, but both researchers of academic excellence.
I don't know if the next few years will continue a virtual life. Anyway, although the taste of a virtual conference is different from a physical one, a virtual conference becomes more accessible to people from remote countries and allows them to participate in a scientific celebration in a virtual way.
In a previous post I mentioned What are the best courses to learn Artificial Intelligence? including machine learning and deep learning
Updated: 11-4-2020
See more blog articles..