.
Gissel Velarde, PhD
Buch: Künstliches Zeitalter: Vorhersagen für Ultramenschen, Roboter und andere intelligente Wesen. Teil I
Libro: Era artificial (versión en Español)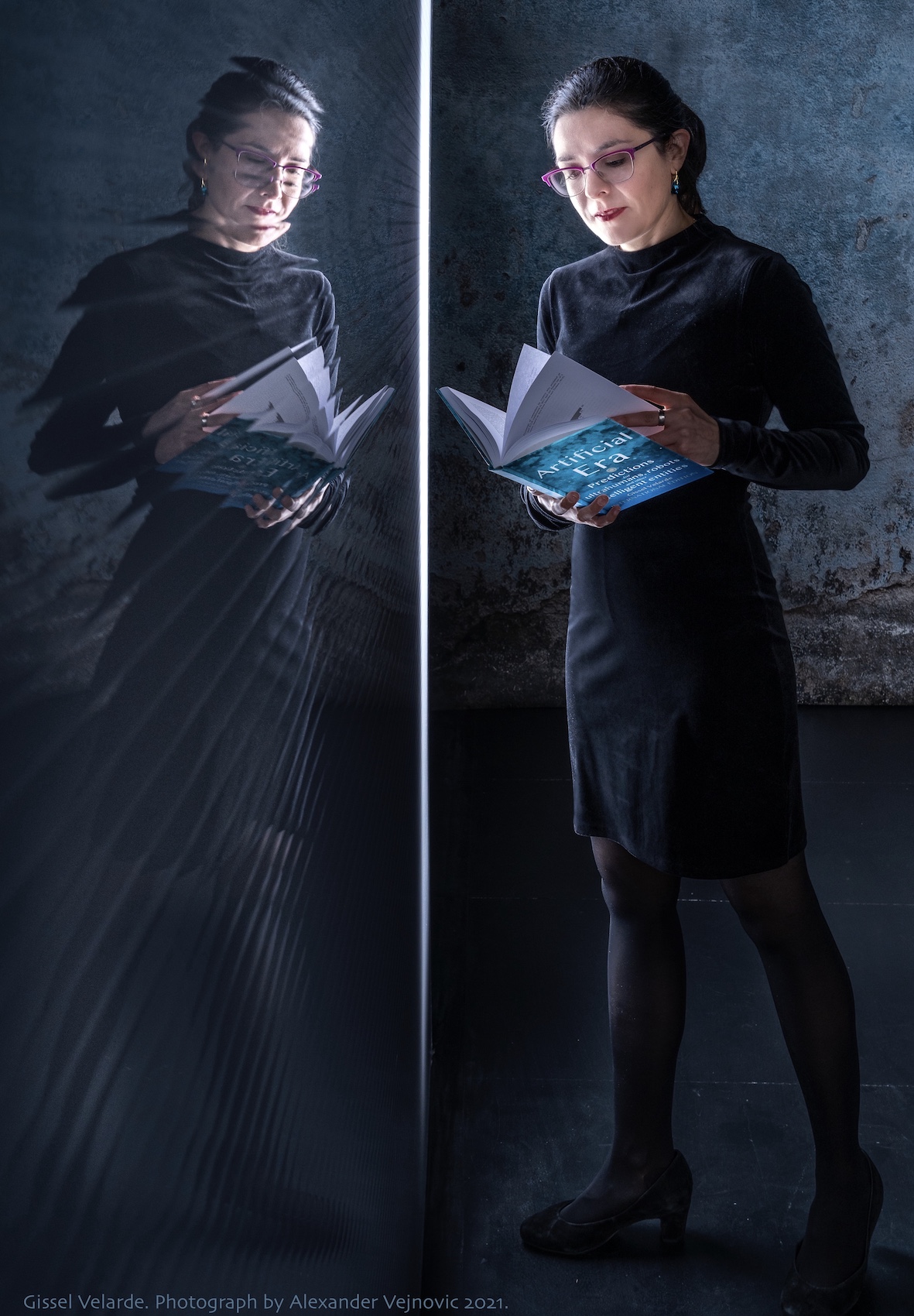 Gissel Velarde
Ph.D. in Computer Science and Engineering
Author, International Consultant and University Lecturer
In 2020, I was named: Notable Woman in the field of research by the International Society for Music Information Retrieval (ISMIR) and I was also selected internationally as one of 120 technologists by the Top Women Tech 2019 & 2020 summit in Brussels.
I have over 20 years of experience in engineering and computer science. I earned a Ph.D. in computer science and engineering from Aalborg University in Denmark in 2017, an institution recognized as the best university in Europe and fourth in the world in engineering according to the US News World Ranking and the MIT 2018 ranking. I obtained a master's degree in electronic systems and engineering management from the University of Applied Sciences of South Westphalia, Soest in Germany, thanks to a DAAD scholarship, and I hold a licenciatura's degree in systems engineering from the Bolivian Catholic University of La Paz, recognized as the third best university in Bolivia according to the Webometrics Ranking 2020.
I worked in industry and academia, and I have received several awards and recognition as an engineer, a computer scientist, and a pianist. I was a research member in the European Commission's project "Learning to Create", and I taught at Aalborg University, at the Bolivian Private University and at the Plurinational Conservatory of Music of Bolivia. I worked for Miebach Gmbh, Hansa Ltda, SONY Computer Science Laboratories, Moodagent, and Pricewaterhouse Coopers.
I have developed machine learning and deep learning algorithms for classification, structural analysis, pattern discovery, and recommendation systems. In my latest book, I analyze the impact of intelligent technologies during what I have called the "Artificial Era".
Research and dissemination
Projects
Urubo Institute of Technology
Take a virtual tour at the institute at www.urubo.org
Blog
Visit the Blog, you will find short articles about AI. See the Blog!
Music by G. Velarde
Others
Press in science
Press in arts
Artificial Intelligence (AI) for you
AI is here to transform all aspects of our lives. The sooner you incorporate AI into your business, the higher the benefits you will enjoy over the competition. Innovators are now at advantage! Do you want to implement AI for your business? Read my book: Artificial Era
I have more than 20 years experience in the field. I worked for:
- Universidad Privada Boliviana, University Lecturer
- Pricewaterhouse Coopers GmbH, Senior Data Scientist
- Moodagent A/S, Software developer / Machine Learning Lead
- SONY Computer Science Laboratories, Consultant
- European Commission, Research member
- Aalborg Univerity, PhD Fellow
- Hugo Miebach GmbH, IT-Expert and Data analyst
- HANSA Ltda, Technical Consultant IT Solutions
See also my Blog!
Contact
You can contact me via e-mail, or through the following networks: