.
This page uses analytics.
Gissel Velarde
PhD in Computer Science and Engineering,
AI R&D, Top Women Tech 2019 & 2020,
BOOKS
A 4.0 Artificial Intelligence strategy in Bolivia
Why is a 4.0 AI strategy a magnificent opportunity for Bolivia during the fourth industrial revolution? what makes Bolivians excellent candidates to catapult their country into the league of innovative countries? and, why have many governments given high priority to their AI strategies? In this book, I address these questions and propose the fundamental elements for a 4.0 AI strategy in Bolivia
Reviews
"Gissel Velarde presents a clear vision in her Strategy for the Industrial Revolution 4.0. This vision considers both challenges and advantages that Bolivia will have to face to develop as much as possible in this new revolution. This book is not only interesting for Bolivia but for all Latin America."
-Dr. Carlos Cancino-Chacón, Austrian Research Institute for Artificial Intelligence, Vienna, Austria
"Knowledge and technology offer great opportunities for human development. Gissel Velarde gives us airs of hope based on a deep study of the Bolivian reality, in the economic, educational and cultural aspects, showing us our potential and our possibilities to use Artificial Intelligence as a transformative and revolutionary tool for the entrepreneur of the 21st century."
–Raquel Maldonado, director of Ensamble Moxos
"The book A 4.0 Artificial Intelligence strategy in Bolivia, pre- sented by G. Velarde, is a very important academic work, as it analyzes the current situation of AI in Bolivia, with a holistic vision, both in the academic, business and state sectors. But the book also provides a strategic model, quite innovative, of how AI should be implemented in Bolivia. It is a recommendable book to read, and above all, to encourage Bolivian researchers to continue on this path, and as mentioned: AI is the future."
–Eduardo Quintanilla de la Cruz, Consultant in Systems Engineering affiliated to Colegio de Ingenieros del Perú.
BIOGRAPHY
Gissel Velarde
PhD in Computer Science and Engineering,
AI R&D, Top Women Tech 2019 & 2020,
I am one of the few Bolivian female artificial intelligence researchers and composers, who has received awards and recognition as an engineer, a computer scientist and a pianist. I hold a PhD in Computer Science and Engineering from Aalborg University, Denmark, recognized as Europe's best and world's fourth top university in engineering according to the US News World Ranking and the MIT ranking 2018. I hold a master's degree in electronic systems and engineering management from the South Westphalia University of Applied Sciences, Soest, Germany, and a Licenciatura's degree in systems engineering from the Universidad Católica Boliviana, La Paz, Bolivia, recognized as the third best university in Bolivia according to the Webometrics Ranking 2020.
During my PhD studies, I had the privilege to work under the supervision of David Meredith, Aalborg University, and Tillman Weyde, City University of London, as well as to participate as a research member of the European project "Learning to Create". I was also very fortunate to have studied with Roberto Carranza Estivariz (1939-2005), Martin Joseph, Sarah Ismael (1927-2014), and many others who influenced my path and to whom I am grateful.
I am interested in how technology can augment our human capacities. I have developed machine learning and deep learning algorithms for classification, structural analysis, pattern discovery and recommendation systems.
This is my CV.
See also my Linkedin profile.
My Amazon page.
My Facebook
Or my Youtube chanel.
Métodos convolutionales para el análisis de la música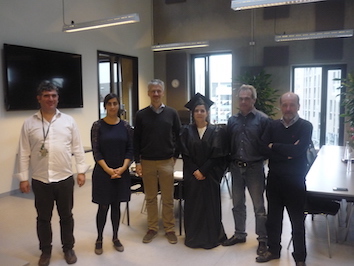 Picture taken on April 6, 2017 at Aalborg University. From left to right: Cumhur Erkut, Emilia Gómez, Tillman Weyde, Gissel Velarde, David Meredith and José Manuel Iñesta Quereda.
During my PhD studies, I had the tremendous privilege to have been a PhD student of David Meredith and Tillman Weyde. On April 6, 2017, I publicly defended my thesis at Aalborg University. I was very honoured to have Cumhur Erkut (Chairman), José Manuel Iñesta Quereda and Emilia Gómez as members of the PhD Committee, and Martin Kraus as moderator. The following are excerpts from the committee's assessment, which were read aloud by Cumhur Erkut:
"The research reported in the present manuscript is highly original and tackles pertinent issues in computational music analysis. It is expected that the developed techniques, obtained results, and lessons learned will advance the development of sound and music computing as a field, specifically in computational music analysis and music information retrieval. While there are voluminous previous accounts on computational music analysis, the manuscript stands out in its systematic approach, clarity, practicality, framing, and applicability...The presentation of the dissertation is excellent. The language is fluent and correct, and proceeds logically. The written expression complies with the conventions of academic writing. The tables and figures are informative and the overall layout is generally clear. Especially Tables 1 and 2, which place each publication's techniques, algorithms, methods, applications, and contribution to the 1- or 2-dimensional analysis in computational music analysis is of great clarity... Main contributions of the thesis: Systematic investigation of the use of wavelets for computational music analysis, expansion of the method to audio analysis, and generalization as convolutional analysis...The oral presentation was of excellent quality, providing clarification, and in most cases, clear answers to the issues we have previously indicated as weaknesses in our preliminary assessment. We have particularly liked the historical motivation, the context, and the formalization of the research problem. Subsequently, the candidate showed excellent command and ability to conduct a scientific discussion. She has also elaborated the choices available in the research work, and justified them. We have positively evaluated her ability to disseminate research outcomes in an effective way..."
Projects
Blog
In my Blog I am writing short articles about AI. See my Blog!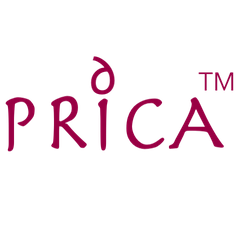 Programming, Robotics, Innovation, sCience and the Arts. Join the proyect!
Get
Artificial Intelligence (AI) for you
AI is here to transform all aspects of our lives. The sooner you incorporate AI into your business, the higher the benefits you will enjoy over the competition. Innovators are now at advantage! Avoid the risk of acquiring Artificial Idiocy instead of Artificial Intelligence.
Would you like to find out what can AI do for your business,
how much you will have to invest,
what resources will you need to start your idea, or
which project you should take first,
then contact me. Describe your company and what would be your primary interest in incorporating AI in your business.